Build Your Dream Jewellery Wardrobe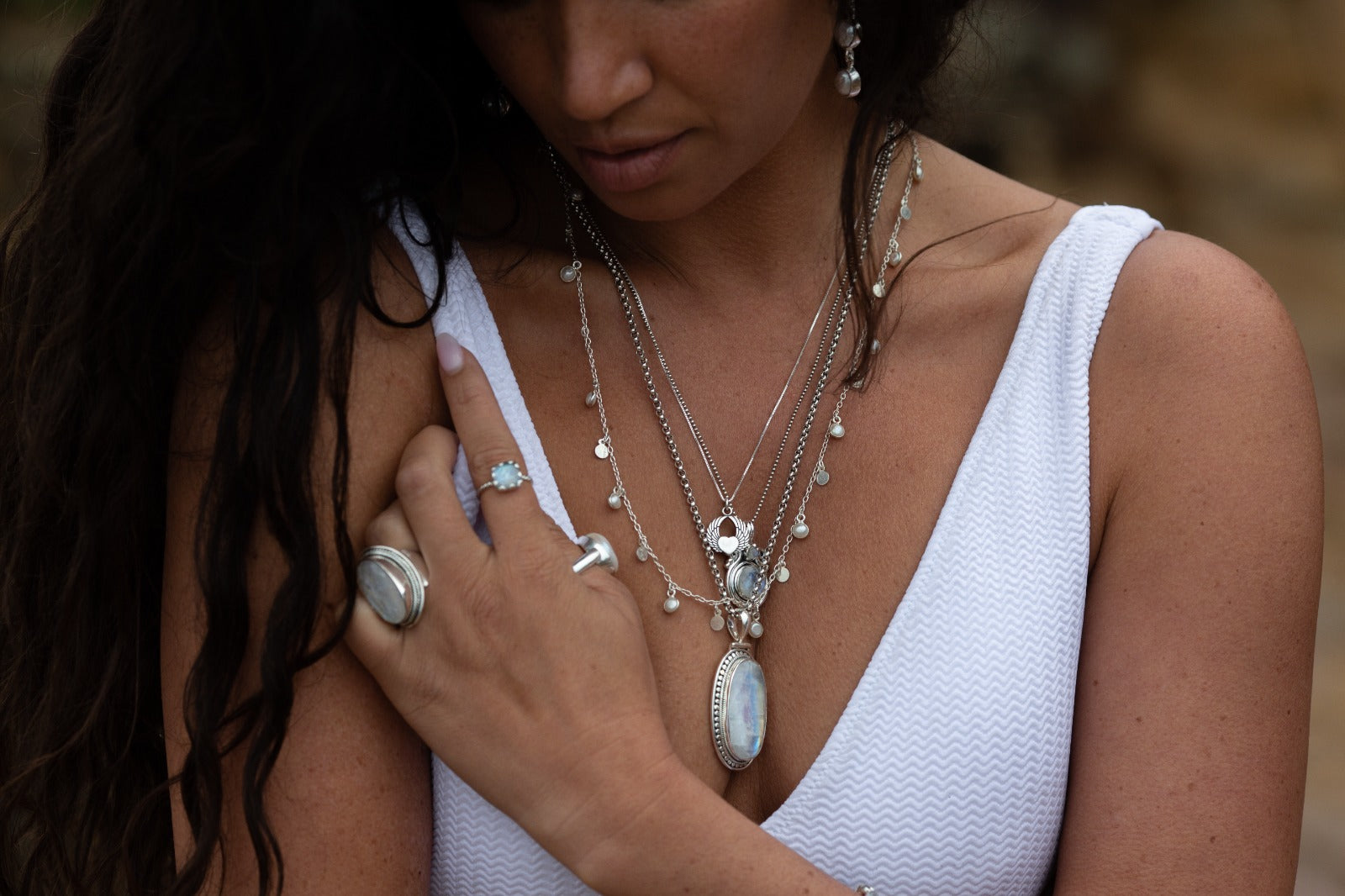 Have you ever thought of how you're building and curating your own jewellery wardrobe?  For most people, jewellery is acquired quite unintentionally, via a process which is given little thought.  We receive jewellery as gifts; we impulse buy items or colour-match them to special day outfits (and then never wear them again).  We hold out for zero birthdays, drop hints to loved ones and keep a weather eye on sales.  In short, it's all pretty haphazard!
There is an alternative, and it's tied in with our core value of mindful consumption.   Shopping purposefully and thoughtfully for jewellery allows you to curate a wardrobe of timeless pieces which mix and match to create endless looks you love.  It ensures you always have the perfect accessory at hand, and reduces dependence on fast fashion i.e., unethical and unsustainable shopping. 
With her 30+ years in jewellery design and retailing, Kalapriya owner Sally has identified a basics list to focus on.  We're talking…
Chains
Pendants
Necklaces
Earrings
Rings
Bracelets
But how to select the best options from the plethora of choices at our fingertips? 
It's as easy as 1,2,3….
Step One: Stocktake Time
Begin by laying out what you have already and see if you can segment things out.  What do you already have covered?  You are more likely to have more of one thing than other - we all have our favourites – for instance, I have over 60 rings but less than 10 pairs of earrings.
Working from the list below, determine where you're short.  Repair any broken pieces and polish up those you still love.  Begin shaping your collection in this way from what you already own.
Does your jewellery box bulge?
Step Two: No Chain, No Gain
Just like those comfy, flattering jeans, classic white shirt and perfectly cut blazer, there are staples of your jewellery wardrobe which you need to invest in to get started.  These basics form the core of your jewellery wardrobe and should be the best quality you can afford – and number one on the list is the humble silver chain.
You'll need three chains of three different lengths to allow you to layer if you wish to.  Contrasting styles work well, and they can be worn alone or mixed together to create a more dramatic effect.
Chain #1: Fine, 18"-20" long.  We recommend this chain from our collection.
Chain #2: Medium, 22"-24" long.  We recommend this chain  or this second option is also a great choice.
Chain #3: Heavy, 26"-30" long.  We suggest something like this chain from our collection.
The right chain makes your pendant sit perfectly!
Step Three: Accent Pieces
Pendants, necklaces, rings and earrings are the pretty blouses, hard-working black pants and leather jackets of your jewellery wardrobe.  They're on high rotation, and while it's great if they compliment each other you do have more flexibility to invest in bolder choices in this arena.
As you acquire, it's important to look at each piece and how it will work with pieces you already have.  Pendants and chains are more versatile with many more 'looks' to create than necklaces, so if you're starting afresh building your wardrobe, focus on these.
Choose a style (contemporary gemstones, chunky silver tribal) or mix and match – it's up to you!  In the same vein as the chains, we suggest owning three sizes of pendants for versatility, and in case you want to layer your pieces (a small piece which would sit on a shorter chain, then a medium pendant for your middle length chain and so on.)
Decide on the stones you love the best - earthy tones often stand the test of time well, or perhaps you adore clear and sparkly stones? You're also going to need at least one plain silver design; when wearing different stones together, colours and finishes which are too different can clash, in which case look to use a plain silver piece instead.  For example, Turquoise doesn't sit well alongside a glittery amethyst for instance.  
Necklaces typically work more as a stand-alone piece (especially if larger), but they can also work in a layered combo with other pendants and chains.
Pretty necklaces work as standalone or layered pieces.
How many piercings do you have? If you have more than one in each lobe, you'll need a couple of pairs of discreet studs if you don't want empty holes! The exception to this rule is when wearing epic earrings, in which case you can get away with it.
Three is the magic number again for earrings. The most important thing to consider is the pendants or necklace you will be teaming your earrings with. If you're going bold on that front, you might want to consider something smaller for your ears or you risk both items competing for attention. A sucker for epic earrings?  Invest in some incredible chandeliers like our gorgeous range of Jhumka – Indian wedding earrings - and make them the hero pieces, skipping the necklaces or pendants all together.
Celebrate the Indian way with splendid Jhumka earrings!
Rings are interesting. We can often think we don't like a particular design but then we try it on and fall in love with it.  Alternately, we fall in love with a certain piece but try it on to find out it really doesn't suit our hand.  A good rule to remember is that short fingers don't typically look great with very long rings, while dainty rings on large hands can look a bit lost.
If you want to wear more than one ring at a time, then it's a good idea to make one of the three rings you purchase (yes, your Jewellery Wardrobe needs three rings, too!) in plain silver and use it to break up stone designs and colours.  Also think about the sizes and shapes of rings you purchase – when wearing multiple rings, it looks better if the larger piece is the central one with smaller rings tapering to the outside.
Pulling it all Together
Once you've considered your favourite styles and bought the basics (three chains, three pendants, three earrings, three rings – all graded in size) you're ready to start mixing your pieces together to create fabulously unique, standout looks.  You're also ready to think about investing in more standout, bold pieces which you may wear less but which make your heart sing.
Keep an eye out in May for our next blog, all about styling jewellery to sit within (and push you out of!) your comfort zone… until then, happy curating!
 Photo of jewellery box by kylefromthenorth on Unsplash